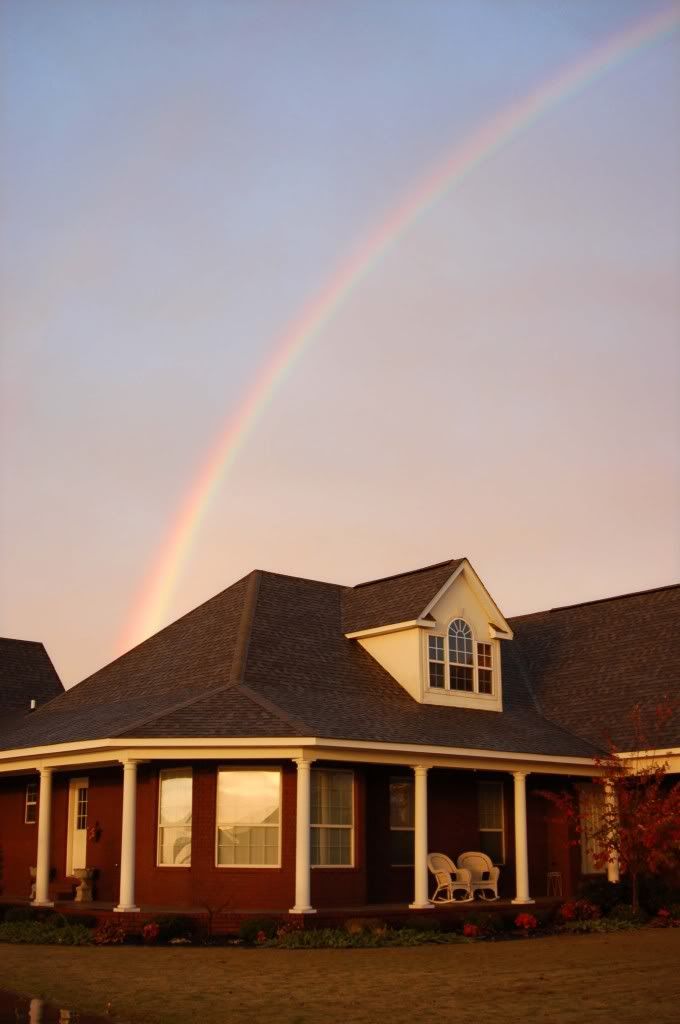 I remember the day well. I was sitting at home in my flannel pink striped pajama pants that I had worn for over 3 weeks. I was nursing a wound- and not just in a physical sense. It was one of the darkest times in my life and, thankfully, God has helped me to forget the intensity of that pain. But the impression still remains. And that I am thankful for.
A day full of rain. Great. Just what I always needed on a day like this. I tried to shake the grief and overwhelming despair. Why did this happen? The rain darkened my mood and reminded me of my sorrow.

The rain finally stopped late in the afternoon. The sun was just starting to set in the sky. As I sat on the couch, I wondered whether there could be a rainbow. I thought about when rainbows appear. I thought about how the sky is usually so definitely divided -the dark sky moving away, heavily contrasted by the bright blue-grey sky in it's clearing. Surely God wouldn't fail me. I went to every window in the house. I knew where the rainbow had to be, considering the time of day that it was, but I couldn't see it from any of the first 6 windows I looked out.
I ran to each room, frantic at the thought of the "promise" not being visible to me. And then I stood at the threshold of the nursery -the nursery prepared for a promise never fulfilled. I ran to the window, skeptical and hopeful at the same time.
And there it was. My promise. The promise that was first given to Noah and now, I believed, to me. His promise. The promise of new beginnings. The promise of safety. The promise of peace. From that moment, I knew that His promise was unfailing. I realized that I was never promised a baby here on earth. His promise isn't about this earth at all. His promise is much more than that.
I recently drove home from work to a beautiful rainbow arching over my home. I remembered His promise given with the rainbow and I remembered that day four years ago in late November when I searched frantically for it's presence. I am constantly reminded of His promise and, every passing year, I remember and long for the day when it is fulfilled.



Therefore we do not lose heart. Though outwardly we are wasting away, yet inwardly we are being renewed day by day. For our light and momentary troubles are achieving for us an eternal glory that far outweighs them all. So we fix our eyes not on what is seen, but on what is unseen. For what is seen is temporary, but what is unseen is eternal.
2 Corinthians 4:16-18